We don't just do photos; in our booth you can record videos, use facial recognition software to add silly faces, glasses etc. But we personally like the old fashioned way, with a full chest of props and our own silly faces!!
We're also the ONLY photo booth company (if you find another one please let us know!) that fully designs your photo background to compliment & match your colour scheme, theme, invitation and style.
A full list of features of the booth is at the bottom of the page, so go check out a few of the important things we offer that are totally unique to The Booth That Rocks!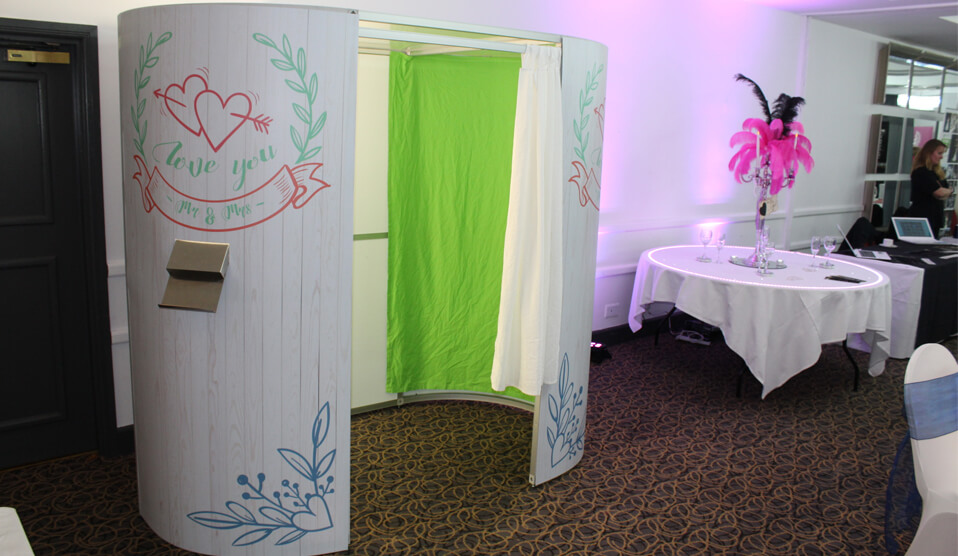 Bespoke Photo Backgrounds...
We design each background specifically for your event, whether you've got a theme or just a colour scheme / invite you'd like us to match the background to, we can do virtually anything. The world is your oyster. Send us a message with your ideas & see what we come up with!
Check our a few recent designs below that we produced for our customers! They absolutely love them.
We have different skins for our photo booth to customise it to your event, which are included in our packages at no extra cost, so you can be sure of no hidden surprise charges! Please see our current skins below, and keep an eye out for future additions…
Great for any event and will blend in with any colour scheme, shown here with our white LED uplights (which of course is included in the photobooth hire cost).
Great with any wedding, features hearts, a 'Mr & Mrs' emblem, and a lovely rustic wooden effect background.
Photos
Take unlimited photos using our integrated green screen background. We have plenty of backgrounds to choose from, such as world landmarks including London, Las Vegas, Paris, New York etc.
All photos are taken with our digital SLR camera for the best quality photos, and printed on your personalised background designed to match the colour scheme or theme of your event, along with your event name & date stamp.
Photos can be printed, shared via email, and even uploaded straight to Social Media.
Video
Record a video message using our HD webcam, which will be given to the host of the party on a USB stick shortly after the event for them to watch back and reminisce over the wonderful time everybody had together.
Prop Chest
Add some fun to your photos with our wide selection of inflatable and wearable props from our wooden prop chest, including themed props to match your event. If you have any specific ideas in mind for your event, get in touch, and we'll see what we can make happen together.
Booth Attendant
Your booth will be attended at all times by a fully trained booth attendant who will help you get the most from the booth and props, and ensure that guestbooks are filled and beautiful messages left.
Social Media Integration
Upload to Facebook directly from the booth, as well as printing your photo. We'll also ask you if you want us to upload all of the photos to our Facebook at the end of the evening (excluding any photos of children!) to tag and share with friends & family. This is entirely optional, and your privacy will be perfectly upheld at any level you choose.
USB Stick
Every booking comes complete with not only the physical prints, but also a USB stick holding all of the images taken during the night. This will be posted to you following your event, so you'll always have something to look forward to afterwards.
Guestbook
A guestbook for the host is included with all of our packages, with a Premium Personalised Guestbook included on the Silver Package upwards. We'll print one or two photobooth piccies for your guests, and one copy will go straight into the guestbook for you to look back on and laugh in the future (when you need a good pick-me-up!). We invite your guests to leave messages with the photos as well to make it even more special for you.